BRISTOL COUNTY SAVINGS BANK AWARDS $40,000 IN GRANTS TO FOUR NON-PROFITS AS PART OF ITS ANNUAL SUPPORT OF THE GREATER TAUNTON COMMUNITY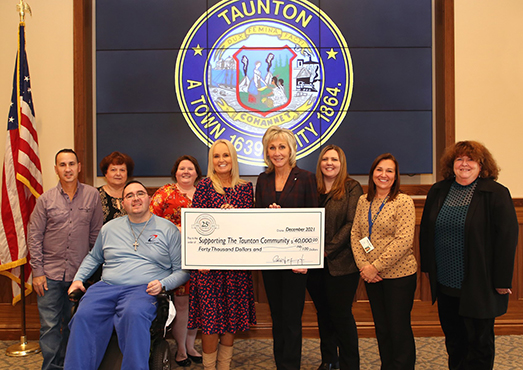 TAUNTON, MA, December 20, 2021 — In partnership with the City of Taunton and Mayor Shaunna O'Connell, Bristol County Savings Bank (BCSB) recently awarded four $10,000 grants to local non-profits Cory's Cause, Taunton Emergency Task Force, Taunton Family Resource Center and Triumph, Inc.
Cory's Cause
is dedicated to educating the local community about opioid addiction and the opioid epidemic.
The Taunton Emergency Task Force
is a fuel fund for individuals and families that do not qualify for the federal Low Income Home Energy Assistance Program (LIHEAP) or the Massachusetts Good Neighbor Energy Fund. The Old Colony YMCA's
Taunton Family Resource Center
helps families and individuals resolve challenges, strengthen bonds and engage in their communities.
Triumph, Inc.
supports the education, well-being and self-sufficiency of young children and their families through high quality early childhood programs like Head Start and community engagement.
Michele Roberts, Executive Vice President and Chief Marketing & Community Relations Officer for the Bank, and Mayor O'Connell awarded the grants to the local charities. "While planning our annual commitment to greater Taunton, we recently met with Mayor O'Connell to review the various needs of the community and determine where the Bank's support could best make a difference," said Roberts. "We look forward to seeing the impact these dedicated non-profit organizations make with the funds, whether it's around the upcoming holidays or throughout the coming year."