Bristol County Savings Bank Promotes Ferrara To Executive Vice President/Chief Human Resources Officer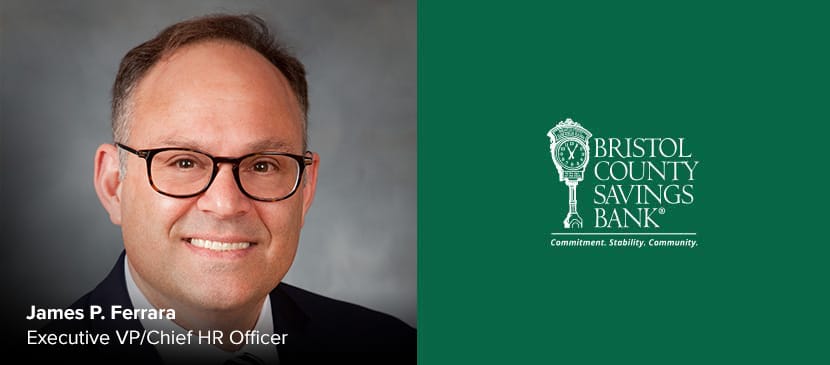 TAUNTON, MA, March 30, 2022 — Bristol County Savings Bank (BCSB), headquartered in Taunton, Massachusetts, announces the promotion of James P. Ferrara to the position of Executive Vice President/Chief Human Resources Officer. In this capacity, Ferrara is responsible for identifying business requirements and translating them into human capital strategies, including workforce planning, recruitment initiatives, associate development, increasing technologies and engagement assessment.
Prior to his promotion, Ferrara was Senior Vice President/Chief Human Resources Officer at the Bank. Previously, Ferrara held the position of Managing Director, Human Resources for Blue Cross Blue Shield of Rhode Island in Providence. Before his tenure there he spent more than 20 years in the financial services industry, serving as Senior Vice President, Head of Divisional Recruitment at Citizens Financial Group in Providence; Staffing Director, Fidelity Investments - Corporate Human Resources in Smithfield, Rhode Island; and Assistant Vice President, Human Resources at FleetBoston Financial (now Bank of America), Providence.
"Jim has been an integral part of our Executive Leadership team since he joined the Bank in 2018," said Patrick Murray, President & CEO of Bristol County Savings Bank. "His thirty-plus years of human resources experience has provided the Bank with additional insights that allow us to continue our development of people. A true spirit of our 'people helping people' community banking culture."
Ferrara is active member of the Governance Committee at the University of Rhode Island, visits the campus to teach students interviewing techniques, personal branding awareness and salary negotiation skills, and also serves as a panelist during "Welcome Day" for parents of new students. He is a graduate of Leadership Rhode Island and later served on its Board of Directors. Ferrara's volunteer activity includes assisting with the annual campaign for United Way of Mass Bay and Merrimack Valley, performing simulated interviews for students at the Northern Rhode Island Career Academy and assisting various military members transitioning to civilian careers. His past activity in the community includes serving as President of Our Redeemer Lutheran Church in Greenville, Rhode Island and a Board Member for the March of Dimes' Rhode Island Chapter.
Ferrara earned his bachelor's degree in Communications from the University of Rhode Island, Kingston, Rhode Island. He also graduated from the Leadership Development Program at Babson College, Wellesley, Massachusetts and American Banking Associations' Stonier Graduate School of Banking at the Wharton School, Philadelphia, PA. Ferrara resides with his family in West Greenwich, Rhode Island.