BCSB Awards $20,000 Grant To The New Bedford Light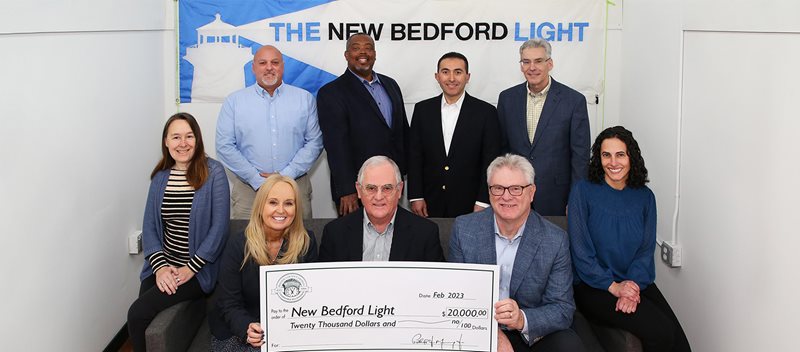 TAUNTON, MA, February 24, 2023 — Bristol County Savings Bank (BCSB), through its Foundation, recently awarded a grant totaling $20,000 to The New Bedford Light, a non-profit, independent digital news organization dedicated to community-based coverage of the important issues impacting the Southcoast Massachusetts region. Since the Bristol County Savings Charitable Foundation was formed in 1996, more than $28 million has been committed to hundreds of different non-profits. In 2022, the Foundation awarded $2.3 million to various 501(c)(3) organizations.
Specifically, the grant will support The New Bedford Light's Summer Internship Program and Community Journalism Project. The internships help expose interested young people to the field of journalism while gaining real-world experience as part of the news team. The journalism project will engage and educate participating members of New Bedford's diverse population in the basics of civic journalism with the hope of inspiring the next generation of journalists and public servants.
"We have been impressed with The New Bedford Light's in-depth, fact-based reporting and its broad platform for all the diverse voices in the community," said Patrick Murray, President & CEO of Bristol County Savings Bank and President of the Bristol County Savings Charitable Foundation. "One of our Foundation's areas of focus is education and literacy, so we were immediately drawn to the initiatives developed by this growing news outlet."
Bristol County Savings Bank is an active supporter in the communities in which it serves. The Foundation was established in 1996 as part of the Bank's 150th Anniversary celebration. Its purpose is to fund needs that contribute to the economic and the social well-being of the people and institutions located in the greater Taunton/Attleboro region, the greater New Bedford/Dartmouth region, the greater Fall River region and the northern Rhode Island region, with particular emphasis in the areas of education and literacy, economic development and housing for the low- to moderate-income population. In 2020, the Foundation added an additional area of focus supporting organizations that are on the frontlines of the pandemic or experiencing hardship as a result.