Joan Medeiros Named Commonwealth Heroine By Massachusetts Commission On Women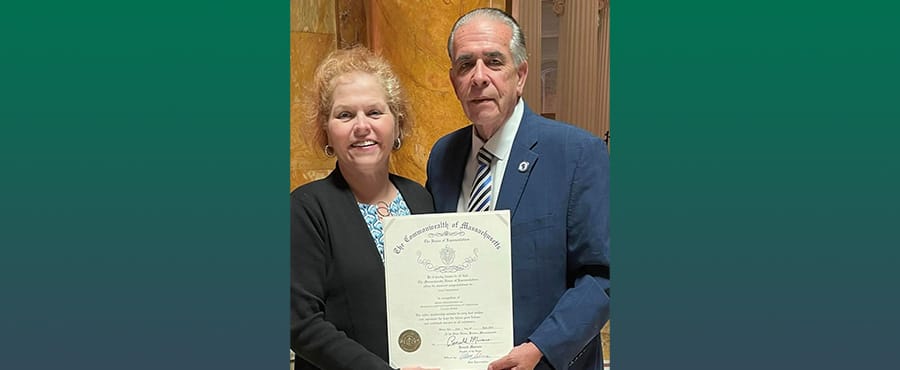 TAUNTON, MA, September 5, 2023 — Bristol County Savings Bank (BCSB), headquartered in Taunton, Massachusetts, announces that Joan Medeiros, Vice President/Head of Small Business Lending and Government Partnerships at the Bank and a Fall River resident, was named to the Commonwealth Heroines Class of 2023 by the Massachusetts Commission on the Status of Women (MCSW) at a recent celebration at the Massachusetts Statehouse. Each year, the Commission partners with state legislators to identify women who make outstanding contributions to their organizations and in their communities. Each legislator is encouraged to submit one woman from their constituency as a means of recognizing their contributions and extraordinary acts of service.
"The Commonwealth Heroines are women who don't make the news, but make all the difference in their communities," said Dr. Sarah Glenn-Smith, MCSW Chairwoman. "Thousands of women in every community across the Commonwealth perform unheralded acts on a daily basis that make our homes, neighborhoods, cities and towns better places to live. Commonwealth Heroines use their time, talent, spirit and enthusiasm to enrich the lives of others in their community. They are mentors, volunteers and innovators and are the glue that keeps a community together." Glenn-Smith added that the MCSW is an independent state agency legislatively created in 1998 to advance women in the Commonwealth to full equality in all areas of life and to promote their rights and opportunities.
Medeiros, a 30-year banking veteran, has held several positions at the Bank and is currently responsible for leading the Small Business Lending Center (SBLC). The SBLC, under Joan's leadership, was critical in leading the Bank's PPP effort during and immediately after the pandemic and is now helping small businesses in the region grow and thrive.
Dedicated to serving the community, Medeiros is a Board Member and Treasurer of the Fall River Redevelopment Authority, Board Member of the Boys & Girls Club of Fall River and serves as Treasurer for the United Way of Greater Fall River. She is also a Board Member at the Argosy Collegiate Charter Foundation based in Fall River.
In 2018, Charlie Baker, Governor of Massachusetts, appointed Medeiros Chairperson of the Board of Trustees at Bristol Community College, the first woman to serve in that position. Active with the Bristol County Chamber of Commerce over the years, she served on its Board of Directors and as Volunteer Chairperson for Fall River Celebrates America.
Medeiros has also been recognized for her numerous professional and charitable accomplishments. In 2013, she was named the SBA's Financial Services Champion for the State of Massachusetts. In 2019, Medeiros was recognized with the Roger Valcourt Memorial Outstanding Citizen of the Year Award by the Bristol County Chamber of Commerce based in Fall River. She received the Achievement Award for Outstanding Community Involvement from the Massachusetts Bankers Association Women and Allies in Banking in 2022. An active member of the Prince Henry Society of Fall River since 2007, she was recognized with its Portuguese-American of the Year Award last year.